Thoroughbred Greats is two things:
1. Horse Racing Blog
2. Collection of Racehorse Websites
This main site serves as a portal to those two things. The Thoroughbred Greats Blog can be accessed by clicking here: TBGreats.com Blog. The blog contains a variety of blog posts on all things horse racing. There are picks, winner profiles, race reviews and memories of racehorses/races past! Thoroughbred Greats also extends the invitation for you to submit your writings to us, for a chance to get it published on the blog! All you have to do is write a horse racing related post and e-mail it to us: webmaster@tbgreats.com
You can learn more about horse racing and the Grand National!!
You can always enhance your racing experience with online horse wagering, and making it much more interesting!
The list of racehorse websites that I have created can be found here.
Posted on TBGreats.com Blog on October 20, 2016 at 6:30pm EST
Cheltenham Signals start of Main Meetings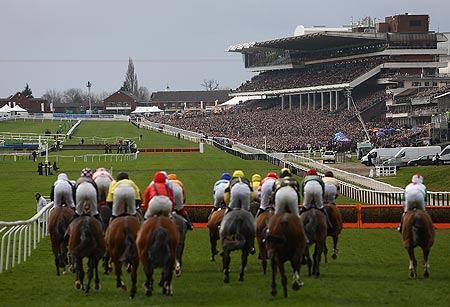 Although there will be a hectic Christmas schedule for race fans to enjoy, for many, the countdown to the Cheltenham festival in March is well underway, in what is always a standout meeting in the year.
After some great performances last year, most notably by Don Cossack who would go on to win the Gold Cup after rival Cue Card had fallen, there will be more excitement this time around.
Despite the race not being until the 17th March, and on the final day of the festival, the bookies have already priced up some of the big names, and Coral have gone with Vautour and Thistlecrack as the early favourites. You would expect this to be decided in the final lengths, and you can keep up with all of the horse racing betting at Coral as the trainers will be looking for their runners and riders to find form over the next few months. Read more here
Posted on TBGreats.com Blog on October 7, 2016 at 8:30am EST
An Early Look at 2016 Breeders Cup Classic
The Breeders' Cup this year will be held in California and Santa Anita Park. In the Breeders' Cup Classic, the competitors will be in the race for the share of $6 million, which is $1 million more than it was last year. If competitors want a shot at taking a good chunk of this money, then they will first need to get past the top dirt handicap horse, California Chrome.
California Chrome was good at just 2 years old, at 3 years old he was great and at 4 years old it looked like he was going to have an amazing season, but due to injury, he was derailed. Now California Chrome is 5 years old and he is amazing on the field. California Chrome, who is the son of Lucky Pulpit has had victories in the G2 San Pasqual, the Group 1, a handicap at Meydan, the G2 San Diego Handicap, $10 million Dubai World Cup and the Win and You're in Grade 1 Pacific Classic. California Chrome is set to be the one to beat in the World Championships' premier race as he is performing better than ever.
Read more here
Posted on
TBGreats.com Blog
on September 10, 2015 at 8:30am EST
The Best Horse Racing Events and Online Betting
Online horse racing has made thousands and thousands of horse races available at the simple click of a mouse and a quick search online. You can make a quality bet on horse races online at 10bet and check in daily to find races going on, top horses, and to calculate the best bets to make. There are lots of events to choose from but finding a one-stop shop for all the best racing events will make the journey to quality betting easier.
Read more here
Posted on
TBGreats.com Blog
on September 5, 2015 at 11:30am EST
The Names To Know For 2016's Cheltenham Festival
After this year's event attracted record crowds of spectators and saw four underdogs win the four biggest races, the 2016 Cheltenham Festival cannot arrive soon enough. In some ways it almost feels like a new chapter in Cheltenham history has begun, with a few decorated champions fading away for various reasons and a batch of exciting new competitors ready to challenge for glory. Next spring, we'll begin to see how this new chapter is going to develop.

Read more about Cheltenham here.
Posted on
TBGreats.com Blog
on May 7, 2015 at 3:30pm EST
A look ahead to Royal Ascot
The Royal Ascot Meeting is one of the greatest horse racing festivals on the calendar and 300,000 spectators attend the venue every year. This year's festival begins on Tuesday 16th June and will be attended by a number of celebrities and famous figures, none more so than the Queen and other members of the royal family. The meeting, which is Britain's most valuable horse racing festival, will see some of the world's greatest horses compete for over L5.5 million in prize money.
Read More about Royal Ascot...
Learn more about Horse Race Betting here!
Posted on
TBGreats.com Blog
on February 25, 2015 at 7:15am EST
Girl jockey has grand ambition to win the National
By: Paolo Camera
As Tony McCoy, one of racing's legendary jockeys, announces his retirement, there's a teenager champing at the bit to fill his boots.
Sixteen-year-old trainee jockey Emma Chaston has a long way to go to match McCoy's record-breaking 4,000-plus wins, but she has grand ambitions to someday take home one of racing's most coveted titles.
Posted on
TBGreats.com Blog
on March 4, 2015 at 7:30 pm EST
Cheltenham Escapes Frost
We are less than four weeks ahead of the 2015 Cheltenham Festival and all the early signs indicate that the weather is going to be good for the "greatest show on turf" this time around as temperatures are forecast to increase before the meeting begins on March 9.
Thoroughbred Greats hosts a few websites dedicated to famous racehorses with complete biography, race record, and information on owner, jockey, trainer. Check them out:
NEW SITE! Ghostzapper - 2004 Horse of the Year and record breaker!
Man o' War - Arguably the greatest racehorse of all time!
Seabiscuit - The American Legend who defeated the odds!
Cigar - America's Horse who went on a 16 race win streak!
Regret - The first filly to win the Kentucky Derby!
Ruffian - The big filly who ran against the boys, but who had a terrible tragedy.

I have also written a few blog posts on some racehorses. These blogs don't contain as much information as the websites above:
Gander - A look back at Gander's smashing riderless "win" in the 2002 Saratoga Breeders Cup Handicap!
Behrens - Behrens memorable run in the 1999 MassCap @ Suffolk Downs.
Captain Bodgit - The formidable closer who came close in 2 legs of the 1997 Triple Crown!
Real Quiet - My personal favorite, one horse who came within a nose of a Triple Crown victory in 1997!

123bet Horse race betting - The home of live horse race betting in America
E-Mail: webmaster@tbgreats.com
Facebook:
Twitter: Follow @TBGreats